ONCE UPON A TIME, THERE WAS the GALLERIA VITTORIO EMANUELE II.
TODAY, WITH THE MERCATO DEL DUOMO, WE WRITE A NEW PAGE IN HISTORY.
Let's jump back to the beginning of the 20th century, when in Italy and in the rest of Europe, an idea that was about to change our habits forever began to surface: commerce and free time, together.
Since then, for over a century, the Galleria has witnessed several cultural and social transformations, especially regarding the evolution of food styles: from the Motta Caffè Bar to the Magic Restaurant, from the Spaghetti Bar to the Terrazza Aperol.
Until now, with the new Autogrill project, that elevates Il Mercato del Duomo to a new symbol of the roots of the Italian food and wine culture.
Come and join us at Il Mercato del Duomo
to make history together.
FROM THE 1920S TO THE 1960S, FROM THE VERY BEGINNING TO THE ECONOMIC BOOM.
It was 1928 when Angelo Motta inaugurated the first Motta Caffè Bar in the Galleria. Entirely designed and furnished by architect Melchiorre Bega, it quickly became a point of reference for whoever lived in the centre of the city.
And then the 1950s came, with the economic boom: salaries increased and so did meals outside the home. The sophisticated pastry shop in the Motta Caffè Bar undeniably took centre stage on Sundays, and became a customary destination for families, who, after attending Mass in the Duomo, would buy some sweets to finish off lunch with a nice dessert. In these years, the restaurant on the upper floor (corresponding to the present Terrazza Aperol) was launched, where uptown Milan celebrates weddings, baptisms and holds other receptions.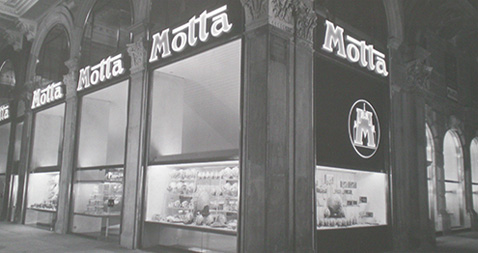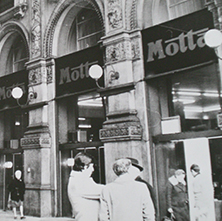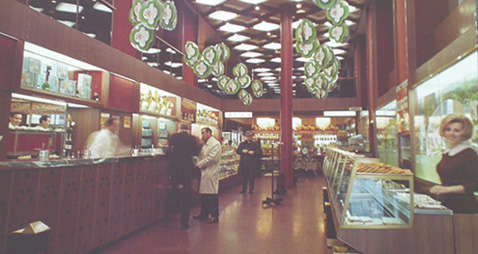 FROM THE 1970S TO THE 1990S: THE CRISIS AND A NEW CONCEPT OF FOODSERVICE.
With the 1973 crisis, entrepreneurs and restaurateurs must find new ideas to stimulate the taste of Italians. The Motta Caffè Bar experienced a season of great changes. The upstairs restaurant became the Spaghetti-Bar with its Magic neon sign; a completely new way of living meals replaced traditional banquets and receptions. The first traditional Milanese aperitifs were born, arranged in rich and tasty buffet islands.
Meanwhile, Milan filled up with ambitious yuppies and young urban professionals, with their frenetic lifestyle. For this reason, during the 1990s, the Motta Caffè Bar reinvented itself and became a multifunctional space, as we know it today, with a pizzeria, a pub and a play area for children, in addition to the bar.