A JOURNEY TO REDISCOVER TRADITIONAL FLAVOURS IN THE GALLERIA VITTORIO EMANUELE II.
Explore our huge workshop of culinary experiences: 4 floors that Autogrill Group has entirely dedicated to taste and passion for authentic food.
Enter the Motta Caffè Bar on the ground floor to enjoy a quality coffee, then go to Il Mercato on the first floor, where the bright colours of local produce and ingredients welcome you. Or overlook the movida of the "Milano da Bere" from the Terrazza Aperol.
Then up to the 4th floor at Spazio Niko Romito, to discover the Italian cuisine of the three Michelin starred chef Niko Romito, chef Gaia Giordano and the brigade of cooks coming from Accademia Niko Romito. Last stop to end a night out with your friends in the best way: the Berlucchi Franciacorta Lounge, where bubbles will tickle your palate and you will try specialties typical of the Italian food and wine tradition.
Come and join us at Il Mercato del Duomo
where taste becomes art.
ART ENTERS THE GALLERIA
We are ready to welcome you in great style: British artist of international fame, Adam Lowe, designed the bronze sculpture suspended at the entrance of Il Mercato del Duomo: it reproduces a centuries-old life-size olive tree. The work, which symbolizes the Mediterranean food and wine culture and bonds to the land, celebrates the richness and freshness of the ingredients and produce that you can taste in the new Duomo Store, right in the centre of Milan.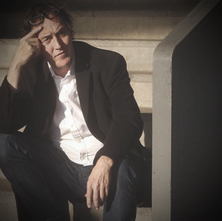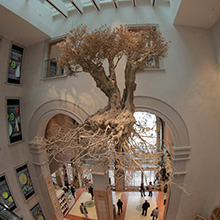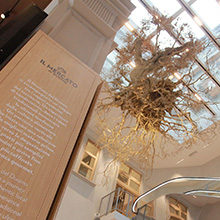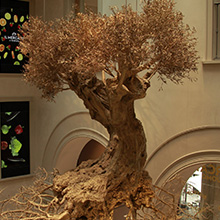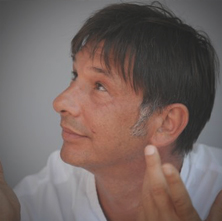 LIGHTING DESIGN, A TRICK OF LIGHTS AND SHADOWS
Il Mercato del Duomo is also a workshop of innovation. The lighting designer Dean Skira set up the illumination design to offer visitors a unique optical effect. By employing LED technology, which modulates light intensity and chromatic tones at different times of the day, the olive tree sculpture is highlighted to immerse the artwork in a natural atmosphere.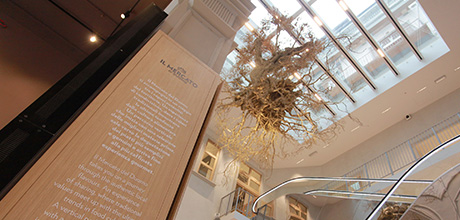 THE ARCHITECTURAL PROJECT SIGNED BY MICHELE DE LUCCHI
To restore a milestone of 19th century architecture to the city of Milan, Autogrill asked for the collaboration of architect Michele De Lucchi, a designer of excellence who has been recognised at an international level and has restyled many historical buildings around the world. His design was developed so as to be respectful of the original Galleria Vittorio Emanuele, which was built in the second half of the 19th century to plans by Giuseppe Mengoni, and highlight the distinctive features that have made it famous all around the world.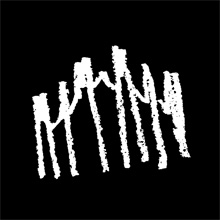 IL MERCATO DEL DUOMO: LOGO
Designed by architect Michele De Lucchi in collaboration with Pomo Design and based on sketches and drawings by De Lucchi himself, it represents the façade of the Duomo. An emblem of Milan, universally recognised and recognisable.